Latest topics
»
Meetings
by
mrsrothbricks
Thu Oct 06, 2016 6:55 am
»
4DBrick monorail fans
by
maarek
Tue Oct 04, 2016 7:09 am
»
FNS Black Pearl, Fusion Powered Sub MOC (LDD)
by
afol666
Fri Sep 16, 2016 1:19 am
»
Friends and Family 20% off for The Lego Store coupon for this weekend---anyone want it?
by
bas157
Wed Sep 14, 2016 11:33 pm
»
Sign me up.
by
Ben-Laura
Mon Sep 05, 2016 4:14 pm
»
Another new member
by
MikeKn
Thu Aug 18, 2016 9:00 am
»
Introductions
by
Ben-Laura
Sun Aug 14, 2016 7:42 pm
»
buWizz remote control
by
maarek
Thu Jul 14, 2016 8:14 pm
»
Bricklink sellers? Profitable?
by
MikeKn
Tue Jul 05, 2016 8:59 am
»
eMail - Survey
by
maarek
Mon Jun 27, 2016 1:56 am
»
LDraw
by
Brick_Dad
Wed Jun 08, 2016 8:50 am
»
MOCs for sale
by
Brick_Dad
Fri Jun 03, 2016 3:57 pm
»
Lego Thunder Road game. ** Joel and Sam **
by
classicplasticbricks
Sun May 22, 2016 7:08 pm
»
Philly Brick Fest 2016 Photos.
by
Cale
Tue May 17, 2016 2:18 pm
»
Ready to join!
by
Brianb
Sun May 15, 2016 9:00 pm
»
wanna play?
by
afol666
Thu May 12, 2016 5:04 pm
»
New Member request
by
maarek
Tue Apr 12, 2016 9:39 pm
»
New Member
by
ruxtpin
Sun Mar 13, 2016 5:23 pm
»
MAKE Extra $ WEDNESDAY MARCH 9th while playing with LEGOS!! Blue Bell PA (outside Philadelphia)
by
whataslacker
Mon Mar 07, 2016 9:43 pm
»
PennLive.com reporter looking to get in touch with local builders
by
Kreativ Snail
Sun Mar 06, 2016 6:35 pm
I haven't posted pictures on flickr or anything yet because it's not done, but here's my new building made using the last LUGBulk and a Tower Bridge set.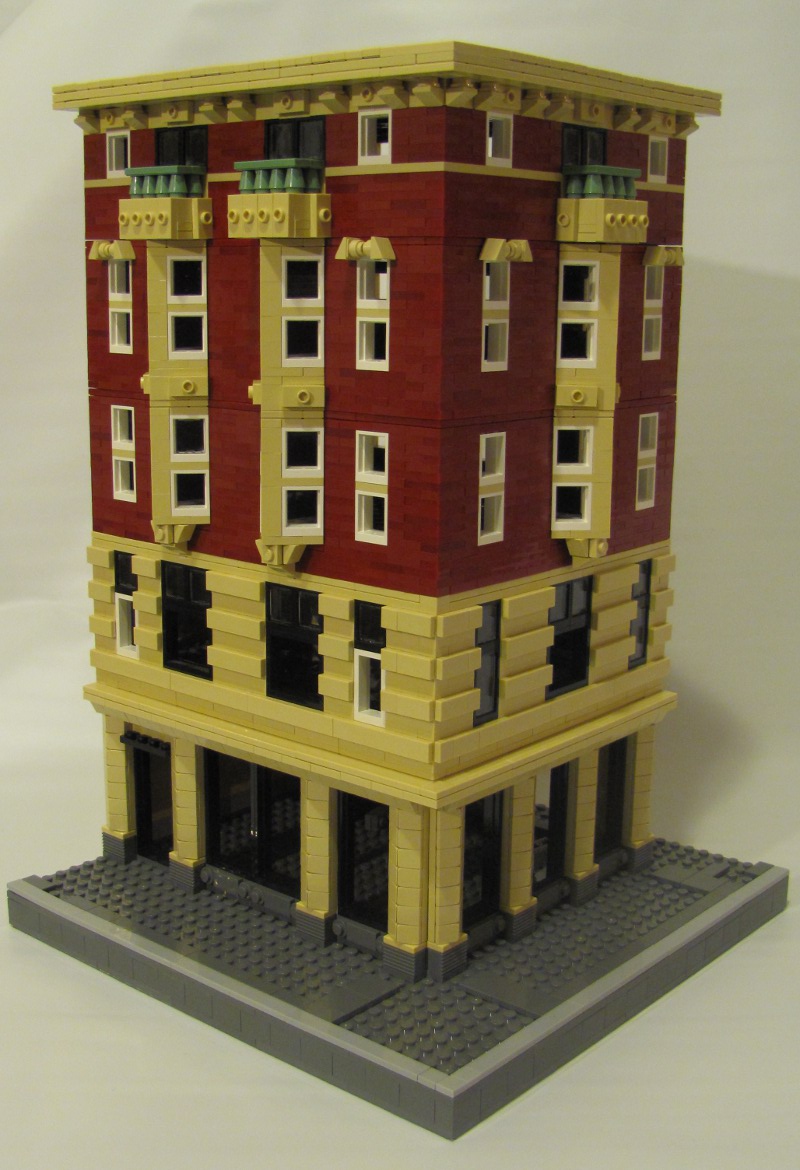 It's inspired by this building at 13th and Walnut in Philadelphia.
Hopefully I will be able to bring this to the meeting this week for feedback.
That looks awsome. I like that we are building more buildings based after or copies of real buildings.
Cool. We can definitely use more corner-buildings on the layout.
Very nice. How did you make the angled windows going up the sides of the building?
Wow, this is just incredible! the angle on the windows is very well done, and the tan and dark red really accent each-other nicely. Good work mate!
I have to agree with every one else. Awesome work so far. This will be a welcome addition to our layout when finished.

Cale
What color are the plates you used: dark red or reddish brown?
Thanks everyone. Obviously I need a couple more 1x2x3 windows in black, and I was originally thinking of making all the upper storey windows tan, but the white has actually started to grow on me. Thoughts?
rgb wrote:What color are the plates you used: dark red or reddish brown?
Dark red. They're a mixture of older dark red, when the color control was really bad and the new, darker, flatter dark red. I have a pretty good sized supply of 1x2 plates in that color.
---
Permissions in this forum:
You
cannot
reply to topics in this forum