Latest topics
»
New(ish) member
by
ruxtpin
Sun Feb 25, 2018 9:01 am
»
LEGO Ship Building Contest March 3rd 2018
by
maarek
Wed Feb 21, 2018 9:49 pm
»
New Member
by
RaritanFan
Sun Feb 18, 2018 9:03 am
»
New Member Request
by
RaritanFan
Thu Feb 15, 2018 9:17 am
»
New Member Request
by
sharky17
Thu Feb 08, 2018 8:41 am
»
New to the group
by
maarek
Wed Feb 07, 2018 10:46 pm
»
HO-scale General Store
by
Kreativ Snail
Tue Jan 30, 2018 9:34 am
»
LEGO ad campaign opportunity
by
Brickadier General
Sun Sep 10, 2017 8:46 pm
»
LEGO Play Ball tour
by
danny316p
Sun Aug 20, 2017 1:56 pm
»
Introductions
by
Cale
Tue Aug 08, 2017 11:08 pm
»
new membership request
by
Cale
Tue Aug 08, 2017 11:07 pm
»
Joining the fun
by
Brianb
Fri Jun 09, 2017 8:03 pm
»
PFx Brick email
by
maarek
Sat Apr 15, 2017 9:54 am
»
Videos talked about yesterday
by
danny316p
Sun Mar 05, 2017 3:08 pm
»
LEGOLAND® Discovery Center Philadelphia Opening in Spring!
by
danny316p
Sun Mar 05, 2017 2:47 pm
»
Custom 3d Printed Steam Drivers
by
sammoe
Sat Mar 04, 2017 11:42 pm
»
A new train curve
by
afol666
Mon Dec 05, 2016 12:18 am
»
LEGO Resale Value
by
Brickadier General
Tue Nov 29, 2016 9:24 pm
»
PennLUG Club Member Information Survey.
by
Brickadier General
Tue Nov 29, 2016 9:12 pm
»
Master Builder position at the new Plymouth Meeting LEGOLAND Discovery Center
by
Brickadier General
Tue Nov 29, 2016 9:07 pm

Hi All,
I'm hoping to borrow from the collective wisdom of the group: I'm building a warehouse (see pics below), but am having some trouble.
The beams that extend from one side to another are sagging in the middle. Is there a way to reinforce the beams?
Thanks for any and all responses,
MrHawthorne
Also, why is the second picture upside down? Help!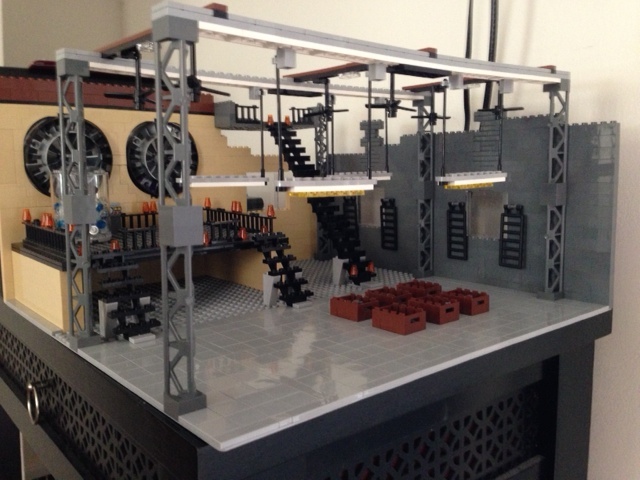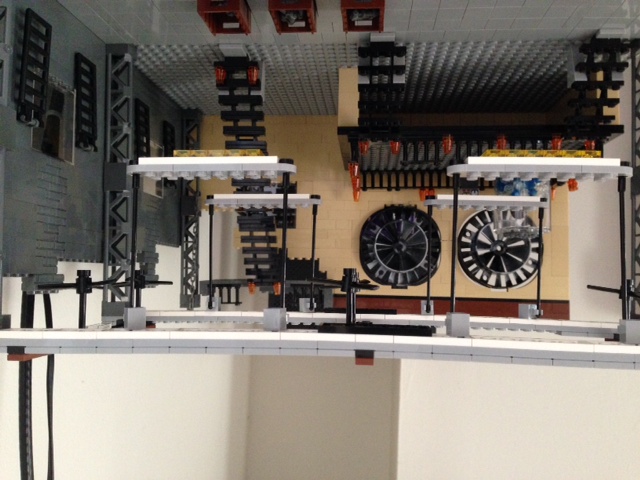 mrhawthorne

Raw ABS pellet




Posts

: 5


Join date

: 2014-05-03



Not sure why the second picture is upside down either.  

As for the sagging on the beams.  It looks like you were using 2x2 tiles on the top?  If you would use longer tiles 1x6 or 1x8 staggered (and staggered over the plate below), and plates as long as you can get (2x12, 2x14 or 2x16).   It's hard to see in the picture, but could you redesign the beam so it is built on it's side?  

Good luck.
Brian

PS.  MOC looks great overall!
What Brian said, stagger the pieces, and use longer ones. Also, you could switch to technic for strength.
The pic is upside down because you probably used a cell phone to take the pic, and the picture uploader doesn't know to flip it.  
Could you use bricks instead of plates (or bricks sandwiched between plates)? Brian's suggestion of putting the plates sideways would eliminate most of the sag as well. Good luck!

D_Runyon

2x4 Brick





Posts

: 600


Join date

: 2009-12-14


Age

: 35


Location

: Harrisburg, PA



Great! Thanks, everyone! I've actually placed more girders in the middle and it's taken care of the sagging problem, but these are great suggestions. I'm a novice builder, so all the help I can get is awesome.

I'll post pictures of it when it's completed.

mrhawthorne

Raw ABS pellet




Posts

: 5


Join date

: 2014-05-03




---
Permissions in this forum:
You
cannot
reply to topics in this forum